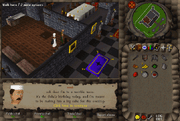 Revision 194 is RuneScape 2. RuneScape 2 was the name given to RuneScape when Jagex released the BETA version of what is now known as RuneScape (or "RS"), on 1 December 2003 (RuneScape 2 Beta is Here!). The working name was RuneScape 3D. The finished version was launched on the 29 March 2004 (RS2 Launched!).
This three-dimensional version featured a vast improvement to the game engine as well as improving on the sound and interfaces. The core engine allowed Jagex to expand the game to levels previously not possible.
194 ProtocolEdit
Not much is known about the 194 protocol.
194 CacheEdit
The 194 cache was approximately 6.51 MB (6,830,749 bytes).

That is NOT including the maps.
Click here for the 194 cache download: #194 cache
The 194 ClientEdit
The 194 Client itself is comprised of 64 classes.
Here is a download to a #194 client: #194 Client
Miscellaneous informationEdit
194 was during the "RS2 beta

".

During this revision, map data was streamed from the server when needed. (That is why the cache does not contain maps).