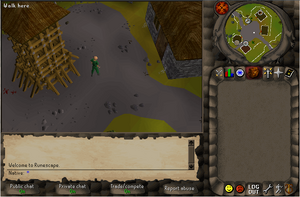 The revision #317 of the RuneScape client was released on May 5th 2005, the other Writer of this Article was wrong in saying it was released at an unknown time between late 2005 and early 2006, Barrows And slayer came in the #317 revision Runescape, and later the dragon and axe in the #369 revision from about Early october 2005 to about 19th November 2006.
317 ProtocolEdit
The protocol documentation is far from done.
317 CacheEdit
The (unconfirmed) 317 cache was released, and is 10.9 MB (11,533,885 bytes).
Click here for the (unconfirmed) 317 cache download: #289 cache
The 317 ClientEdit
The 317 Client itself is comprised of 75 classes.
Here is a download to a very renamed #317 client: Highly renamed #317 Client (not a download)
Also here is a non-renamed deob version of the client (loading the "317 cache"): Non-renamed #317 Client
Miscilanious InformationEdit
317 contained 6540 items.
Unlike 289, 317 had slayer.
The first "RuneScape private server" was based on the 317 protocol. (Made by winterLove)
Ad blocker interference detected!
Wikia is a free-to-use site that makes money from advertising. We have a modified experience for viewers using ad blockers

Wikia is not accessible if you've made further modifications. Remove the custom ad blocker rule(s) and the page will load as expected.